Faculty professors
PhD students
Visiting researchers
Postdoc researchers
Visitors
Former members
Arash Shahmansoori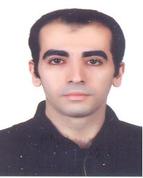 Former member
email:

arash.shahmansoori at uab.cat

phone:

+34 93 586 8473

fax:

+34 93 581 4031

office:

QC-3101C
Dpt. Telecommunications and Systems Engineering
UAB – Engineering School
Universitat Autònoma de Barcelona
Bellaterra 08193 - Barcelona (Spain)
Bio
Arash Shahmansoori received the B.Sc. degree (with honors) in bioelectric engineering from Tehran polytechnique, Tehran, Iran in 2010, and the M.Sc. degree in signal processing from the Norwegian University of Science and Technology (NTNU), Trondheim, Norway, in 2012. He is currently working toward the Ph.D. degree in joint communication and navigation techniques at the SPCOMNAV group, Universitat Autònoma de Barcelona (UAB).
On January 30, 2017, he completed his PhD entitled "Localization with OFDM signals in 5G
systems" at the SPCOMNAV group.
Research interests
His current research interests lie in the field of wireless communications and statistical signal processing.
Recent publications